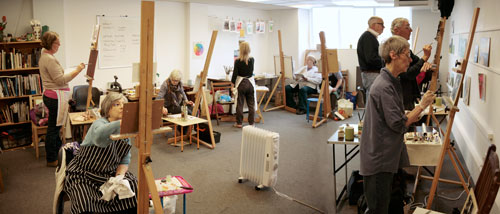 Tutored Class: MONDAY MORNINGS 9.30am to 12.30pm
11 weeks
14th Jan to 1st April 2019
(No class 18th Feb)
Tutored Class: MONDAY AFTERNOONS 1pm to 4pm
11 weeks
14th Jan to 1st April 2019
(No class 18th Feb
£185 (includes refreshments)
–
The 2018 Drawing and Oil Painting courses are suitable for all levels of experience from beginner to more advanced artists. Because Norman redesigns the content of the course each year, even returning students will remain stimulated and challenged.
The structured elements of the course include painting exercises to challenge and strengthen your painting skills. We work on drawing, composition, colour mixing and paint application. More experienced artists may incorporate their own approach into these exercises.
You will be encouraged to develop your own approach to subject matter and technique. The emphasis is on individual advice tailored to the needs and experience of each artist.
–
Places are limited and can only be confirmed on receipt of payment.
All classes are subject to sufficient numbers and the continuing availability of the venue.