Welcome to the NEW Norman Long Artist BLOG PAGE
To welcome you, here is my palette
For a few months I have been working solely in monochrome – drawings and acrylic under paintings. When I came to the point of re-enteringthe world of colour, I realised that I was somewhat bored with my existing palette of colours. I began looking at what exotic creatures other artists had on their palettes and reading why they had made the choices they had. With my original selection, I could paint any colour I saw, but I simply wasn't having much fun.
So here they are, my new team:
CHROMATIC COLOURS:
WINSOR LEMON (Arylide)
CADMIUM YELLOW LIGHT
CADMIUM YELLOW
CADMIUM ORANGE
CADMIUM SCARLET
CADMIUM RED / GERANIUM LAKE (Quinacrodone)
PERMANENT ROSE (Quinacrodone)
MAGENTA
DIOXAZINE PURPLE
ULTRAMARINE BLUE
PHTHALO BLUE
PHTHALO TURQUOISE
VIRIDIAN HUE (Phthalo)
COBALT GREEN LIGHT / COBALT TEAL
EMERALD GREEN
PERMANENT GREEN LIGHT
EARTH COLOURS:
NAPLES YELLOW
BURNT SIENNA
LIGHT RED
INDIAN RED
INDIGO / PAYNES GREY / LAMP BLACK
OXIDE OF CHROMIUM / TERRE VERTE
RAW UMBER
TWO APPROACHES: Full Palette from life, limited palette for invention
With these developments in mind, I have been looking at art with a strong colour bias. Camille Przwodek uses a full palette to find rich colour in painting from life.
In her compositions with invented colour, Susan Lichtman finds exciting harmonies through selecting just three "primaries" and white in order to hold the painting together. She says"The Red might be venetian or cadmium, the Blue might be a cobalt or ultramarine or black or even a green; and the Yellow might be yellow ochre or a cadmium." Later in the painting, she may add a fourth hue.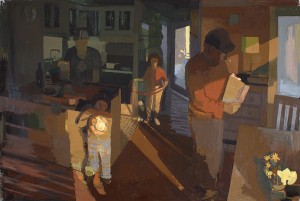 Susan Lichtman Family at Sundown 56 x 72 ins
To see earlier blog posts 2010-15, check out normanlongartist.blogspot.com