at the Norman Long Studio School
2019
Unit 118 Oyston Mill, Strand Road, Preston, Lancashire, PR18UR
---
Oil Painting with Norman Long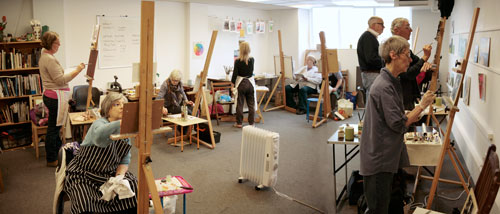 Tutored Class: MONDAY MORNINGS 9.30am to 12.30pm
10 weeks
2nd Sept to 2nd Dec 2019
---
Oil Painting with Norman Long
Tutored Class: MONDAY AFTERNOONS 1pm to 4pm
10 weeks
2nd Sept to 2nd Dec 2019
---
Painting the Clothed Figure from Life
UNTUTORED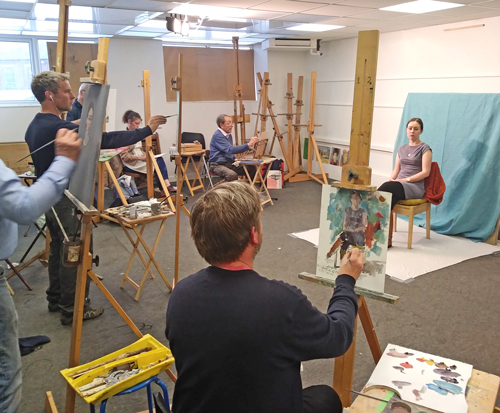 Tuesdays 7pm to 9.30pm
Final session for 2019 will be 27th August. This is to give Norman time to work
towards a show in Nov 2019
Remaining dates for 2019
July 16 / 23 / 30
August 20 / 27
---
Studio Day
with feedback from Norman Long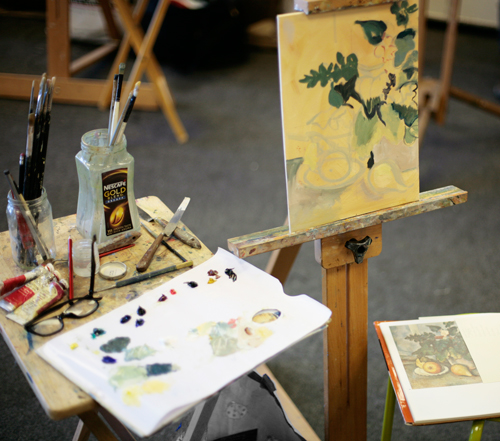 Fridays
12 weeks.    
10am to 3.45pm
6th Sept to 29th Nov 2019
---
For inspiration, check out
---
Suggested Oil Painting Materials
OIL PAINTS
You can paint well with a small number of colours – even four primaries (**) and white. Below is the full range I use. A good selection is in Bold, with alternative colours listed alongside. Winton brand are fine for most colours, whereas Cadmium colours are much stronger in artist's quality if you can afford them.
Titanium White

– Large tube(200ml)
 Chromatic Colours
Cadmium Yellow Light or

Lemon Yellow

Cadmium Yellow

**

Cadmium Orange

Cadmium Red

**or Cadmium Scarlet

Permanent Rose

**

Magenta

Dioxazine Purple

Phthalo Blue

**

Viridian Hue

Permanent Green Light
Earth Colours
Yellow Ochre

Indian Red

or Mars Violet Deep

Burnt Sienna 

or Transparent Oxide Red

Raw Umber

or Van Dyck Brown

Ivory Black

or Indigo
SUITABLE SUPPORTS
Hardboard primed with Acrylic Primer (Gesso). I use white – faced hardboard primed twice on the brown side.
Stretched Canvas
Canvas Board
NOTE: Many cheaper canvases and canvas boards are very absorbent and would benefit from an additional coat of gesso. 
BRUSHES  (The artist sells sets of 12 professional quality brushes at £60)
Long handles preferred
Hog hair brushes sizes between 2 – 10
Synthetic hair sizes between 0 – 2
PALETTE KNIFE
PALETTE (any smooth, non absorbent surface, preferably 12" x 16" or larger)
DIPPER (container for holding solvent)
WHITE SPIRIT / Low Odour Thinners / Zest It
LINSEED OIL
RAGS / Good quality kitchen tissue (such as "Plenty")
OLD TELEPHONE DIRECTORY (if you can find any)