Painting the Clothed Figure from Life
UNTUTORED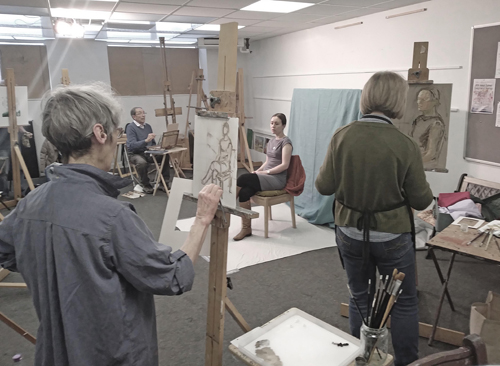 At the Norman Long Studio School
Unit 118, Oyston Mill, Strand Road, Preston, PR1 8UR
TUESDAYS 7 pm to 9.30pm
Artists are welcome to join us for these UNTUTORED clothed figure painting sessions. Most artists work in oils but you are welcome to use any medium. Easels are provided and free tea/coffee and biscuits at break time. Cost is £7 per session.
The model will be in one pose for the evening and where indicated will resume the same pose and costume for a second evening. There will be no session in Sept, Oct or Nov 2019 to allow Norman time to work towards a show in November. 
If you are attending for the first time, please contact Norman for access.
 2019 Schedule
DATE

SESSION    

MODEL

15th Jan

YES 

Mowgli

22 Jan

YES

Fiona

29 Jan 

YES

John

5 Feb

YES

Hubert

12 Feb

YES

Arjun

19 Feb 

NO

Half Term

26 Feb

YES

Edie-Mea

5 March

YES

Robin

12 March

YES

Norman

19 March

YES 

 TBA

26 March

YES

 Ronan

2 April

YES

 Tracey

9 April

NO

Easter Hols

16 April

NO

Easter Hols

23 April

YES

Matthew

30 April

YES 

Rosy

7 May

 YES

Brett

14 May

YES 

 Fiona

21 May
NO
London Painting Trip
28 May

NO

Holiday

4 June

YES

Louise

11 June

YES

James 

18 June

 YES

 Matthew

25th June

YES

Robin

 2nd July

YES 

Jodi

9 th July

YES

Mowgli

16th July
YES
Willie
23rd July
YES 
Emily
30 th July
 YES
 Ian
6th Aug
NO
In Cornwall
13th Aug
NO
In Cornwall
20th Aug
YES
Ruth
27th Aug
YES
Wendy
NO Sessions
Sept

Oct

Nov

2019